"Need to check your juices? We're never pressed for time."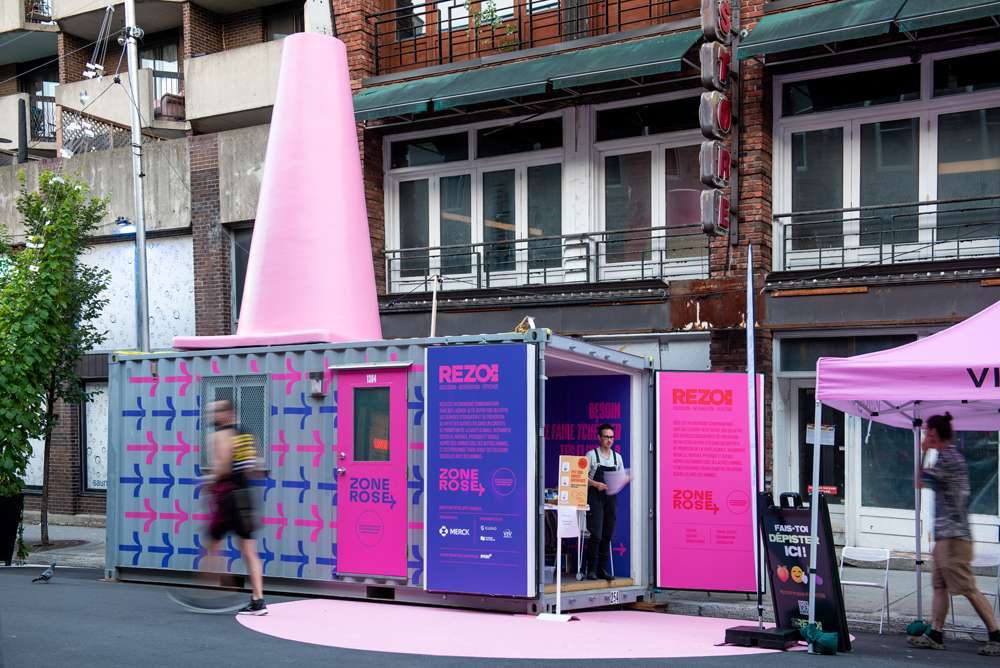 Montréal, August 7, 2023 – In the heart of Montreal's Village, RÉZO is launching La Zone Rose today, a container equipped with a giant pink cone on the roof, serving as an area for intervention, open discussion without judgment, and free, walk-in HIV/STI screening until October 1, 2023. RÉZO has been active in the Village and its surroundings for over 30 years, operating an intervention kiosk on Sainte-Catherine East for over 15 years. This year, their presence is strengthened and extended with a creative and unique project named La Zone Rose.
La Zone Rose: Some positivity in the Village
With a two-month presence right on the street, five days a week from Wednesday to Sunday, La Zone Rose aims to bring communities together.
"While we don't claim that La Zone Rose can meet all the needs observed in the Village, we firmly believe that its listening approach, social aspect, creativity, harm reduction strategies, and compassion will make it an added value in the Village at the intersection of communities, merchants, residents, and visitors." – Alexandre Dumont Blais, Executive Director of RÉZO.
With a diverse intervention team combined with street work expertise that offers listening, information on various local challenges and needs, and the distribution of prevention materials, La Zone Rose aims to have a positive impact on the Village's image by highlighting the solidarity and mobilizing capacities of our communities and their allies.
Communities disproportionately affected by STIs
Even today, GBQ men, and any other man who has sex with men, remain the most affected populations by HIV in Canada. In 2021, these individuals still accounted for nearly 60% of new HIV cases, with the majority in Montreal, according to the latest INSPQ report. Our communities also bear the burden of other STIs such as LGV and, more recently, mpox, representing over 98% of cases. Gonorrhea, chlamydia, and syphilis continue to disproportionately affect our communities.
The key is proximity screening
Because quick access to screening remains challenging in Montreal, and screening is crucial for reducing HIV and other STI transmission, RÉZO believes that communities have the right to services that are tailored to their needs. Alongside the intervention team, La Zone Rose offers on-site screening by nursing staff (HIV, syphilis, gonorrhea, chlamydia) within an air-conditioned space, and will also distribute free HIV self-tests, prevention, and consumption materials. Direct service corridors with partner clinics will be established, including vaccination for mpox, HPV, hepatitis A and B, and their specialized services: clinique Médicale L'Actuel, clinique Quartier Latin, clinique La Licorne, and clinique SIDEP+ of CIUSSS du Centre-Sud-de-l'Île-de-Montréal.
Continuation of prevention activities with Montréal public health
Following the success of the close collaboration between public health and RÉZO during the mpox epidemic, CIUSSS teams will be offering their support to the Zone Rose, both in terms of screening and vaccination against mpox. The vaccination will be offered on site from Thursday to Saturday throughout August.
"My teams and I proudly support our partner REZO's La Zone Rose. It is an empowering project based on a community-driven response to public health issues. It is an inspiring example to follow and replicate!"
– Dre Mylène Drouin, public health director at CIUSSS du Centre-Sud-de-l'Île-de-Montréal.
To date, almost 26,000 1st doses and 11,000 2nd doses of the mpox vaccine have been administered in Montreal.
La Zone Rose made possible by the financial support, trust, and collaboration of several partners
This exciting project for our organization and communities has convinced several partners who share our common health and well-being objectives.
"Merck Canada proudly supports La Zone Rose initiative, which is a testament to Rézo's unwavering commitment and approach to inclusivity, compassion, and empowerment. This project will undoubtedly have a long-lasting positive impact on the local community and provide individuals with the resources to invest in their health and wellbeing." – Philippe Houle, Executive Director, Vaccines and Primary Care at Merck Canada
Supporting Partners: GILEAD
"We are proud to contribute to the funding of the La Zone Rose, which will play an essential role in mobilizing GBQ individuals towards health services. By strategically bringing services together within the community and adopting a person-centered approach, we are confident that this initiative will achieve fantastic results and accelerate progress towards our shared goal of ending the HIV epidemic for everyone, everywhere." – Christophe Griolet, Vice-President, and General Manager at Gilead Sciences Canada Inc.
Supporting Partners: ViiV
"We are delighted to support La Zone Rose in helping people access health services and stay up-to-date with screening and vaccination in a prejudice-free environment. Regular HIV screening is the best way to know one's serological status and prevent transmission. We are proud to work with our partners to improve the health of our communities." – Raphael Hebert, General Manager, ViiV Healthcare.
Supporting Partners: National Bank of Canada.
"At the National Bank, inclusion, diversity, and equity are at the core of our values. We aim to have a positive impact on our clients, employees, and the community we serve in the Village. This is why the Bank and its teams are proud to collaborate with organizations such as RÉZO, which share these same values and promote them through inclusive and equitable initiatives like La Zone Rose. We are committed to continuing to take daily actions to make our environments even more inclusive and to support the diversity of each individual." – Stéphane Bérubé, Vice President of IT Operations and LGBTQ2+ Ambassador at the Inclusion and Diversity Council at National Bank.
RÉZO would like to thank la SDC du Village for its logistical support and Upperkut for its greatly creative collaboration in this project.
RÉZO is a Montreal-based non-profit community organization active since 1991, providing HIV and other STI education and prevention services within the context of promoting overall health, including sexual, mental, physical, and social health, to GBQ men, other men, and trans individuals who have sex with men.
RÉZO's La Zone Rose Schedule: Until October 1, 2023, from Wednesday to Sunday, from 3:00 pm to 9:00 pm, and screening from 3:00 pm to 7:00 pm, depending on the availability of our clinical partners.
Location of RÉZO's La Zone Rose: In front of 1364 Sainte-Catherine East, between Plessis and Panet streets.
For more information: rezosante.org/zonerose
rezosante.org / @REZOsante